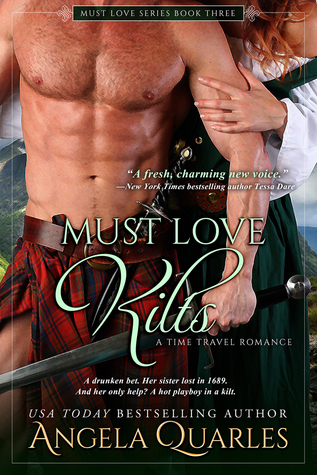 'Must Love Kilts' by Angela Quarles is book three in the "Must Love Time Travel" series.
I can easily say this is a standalone book if by some chance you are jumping around in the series.
Traci and her sister were in present time in Scotland on vacation when they started drinking and making a bet that Highlanders were or were not that hot if they met them in person. Traci didn't think they would be that it was just a myth...but her sister disagreed. Which wouldn't be such a serious bet if they hadn't been drinking and they didn't have an actual way to go back in time to see what a highlander would look like. Now it has turned very serious...because Traci wakes up the next to find that she doesn't have her sister back with her. Then Traci remembers that after meeting two highlanders they were drinking with them and the next thing Traci knew she was being chased and ended up leaving her sister in the past time. Now Traci is having to go back for her to find her. Traci runs back into Iain who was one of the men she met last night.
Not to give anything away but he has some news for her but he does agree to help her find her sister. Iain has also been tasked by his clan to keep and eye on Traci as they think she is a Campbell spy so Iain aft first isn't acting at face value with Traci.
I enjoyed this story and can't wait for the next installment which I am hoping is dealing with Traci sister.
I received this book in exchange for an honest review.
Please follow more reviews at the below sites:
https://www.goodreads.com/user/show/1831318-sissy-s-romance-book-review-for-you http://sissymaereads.blogspot.com/
https://www.facebook.com/sally.mae.395454
http://sissymae.booklikes.com/
https://romancebookreviewforyou.wordpress.com/
https://www.facebook.com/groups/1709181636033417/
https://twitter.com/soapsrus68
https://www.pinterest.com/u2soapsrus/
http://romancebookreviewforyoublog.tumblr.com/