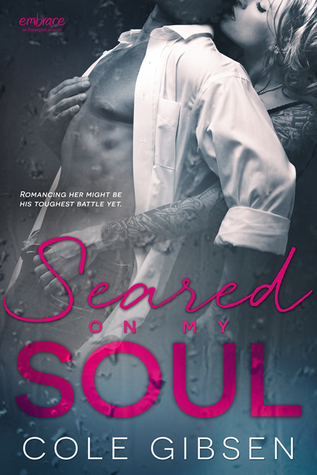 I received an eARC, from NetGalley and the publisher, in exchange for an honest review.
'Seared on My Soul by Cole Gibsen is the story of Emily Garret and Reece Montgomery.
Emily is working at a coffee shop at the age of 21 and has a drinking problem. Not to mention that she feels a failure and thinks her family does to. So one night of drinking she let some stranger who is also drinking drive and wreck. Reece finds them and saves Emily's life. Reece also is fighting his own demons. Reece was in the military and so was his brother. But his brother ended up dying after saving Reece's life. So Reece has been feeling sorry for himself, dealing with a bad knee and fight panick attacks.
Reece and Emily kind of fell into a relationship with each other. They both actually helped the other see thing in each other that the didn't before.
This was a realist type romance in the way they weren't living in fairytale land..they had real problems.
I surprised my self by recalling liking this book. I was set to not do so as I was taken by the introduction to this book. But I am so glad I stuck with it. I couldn't put it down.




Please follow more reviews at the below sites:
https://www.goodreads.com/user/show/1...
http://sissymaereads.blogspot.com/
https://www.facebook.com/sally.mae.39...
http://booklikes.com/
https://romancebookreviewforyou.wordp...
https://www.facebook.com/groups/17091...
https://twitter.com/soapsrus68