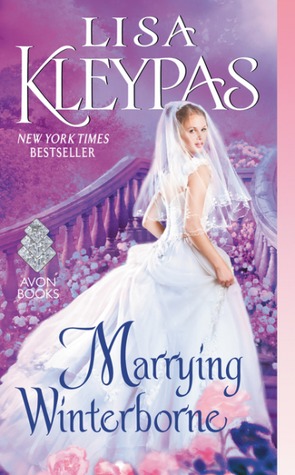 'Marrying Winterborne' by Lisa Kleypas is book two in the "The Ravenels" series. This is the story of Lady Helen Ravenel and Rhys Winterborne. You don't have to have read the previous book but I would.... Helen and Rhys story starts there but this book does catch you up.
I have waited for this book for what seemed like forever! The wait was so worth it!! I am crazy about this book....so good!! I love Rhys!!! He has been the best hero so far!!
Helen is the shy older sister who has been sheltered all her life..more so than her two twin sister. Helen is a caregiver of sorts also. So when her cousin friend Rhys is hurt and has to stay at their house she elects to take care of him. This leads to Rhys being drawn to her like no other. Rhys is a merchant and is on the fringe of society. Rhys thinks marrying a 'Lady' will raise his status if he marries Helen....but more importantly he wants Helen.
This book starts off with Rhys and Helen engagement being up in the air after Helen's sister in-law tells Rhys that Helen doesn't want to marry him. We see how Helen tries to break from her shyness to get Rhys back.... and how Rhys doesn't want to be hurt again if he goes back to her.
Gosh...I so wish you could give books a hundred stars!! I would for this one.


Please follow more reviews at the below sites:
https://www.goodreads.com/user/show/1...
http://sissymaereads.blogspot.com/
https://www.facebook.com/sally.mae.39...
http://booklikes.com/
https://romancebookreviewforyou.wordp...
https://www.facebook.com/groups/17091...
https://twitter.com/soapsrus68
https://www.pinterest.com/u2soapsrus/